About Janni Goss
Janni Goss has a passion for outsmarting stress, sustaining wellbeing, and taking responsibility for one's health throughout life.
Conference Speaker
Wellbeing Educator
Author
Qualifications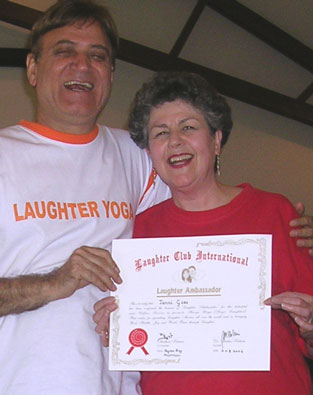 Janni is a qualified physiotherapist and Feldenkrais practitioner, having worked at Princess Margaret Hospital, The Association for the Blind, Disability Services Commission, and in private practice, aged care and at the Cottage Hospice. Janni is a former lecturer and clinical supervisor at the School of Physiotherapy at the Western Australian Institute of Technology/Curtin University.
Her professional interests include child health, developmental disability, women's health, aged and palliative care and ageing with disability, and Laughter Therapy. Janni is the Advisor for Ageing and Disability for the National Council of Women of Western Australia. She is the President of LaughWA Inc and is a member of The Australian Physiotherapy Association and Australian Feldenkrais Guild.
Stress: Recognition and Intervention
Janni's first conference paper, 'Stress: Recognition and Intervention' was delivered at the 9th International Health Education Conference in Ottawa, Canada. Janni has subsequently presented at numerous national and state conferences, and seminars in the fields of physiotherapy, paediatric physiotherapy, Feldenkrais, developmental disability, early childhood health, care and education, women's health and aged care, workplace wellbeing, and Laughter as therapy.
Stress reduction strategies
Janni has a long-term interest in the causes and outcomes of stress, and teaching stress reduction strategies for children and adults. JelliTime™ is a game specifically created by Janni to help children learn relaxation skills. Movement, fun, laughter and relaxation are integral to JelliTime™. It provides a tool for adults to help children to regulate their own behaviour and share relaxation time. JelliTime™ has been used by parents, carers and teachers for the children in their lives for more than thirty years in Western Australia. Janni has now produced the DIY Nurturing Kids Kit to promote children's wellbeing.
Timeline
2017 – "Love Laughter and Longevity – The Art & Science of Wellbeing" published
2017 – Oral Presentation "Laughter as Therapy" at the Australian Association of Gerontology National Conference in Perth
2015 – Poster Presentation "Potential of Laughter Therapy" at the Australian Association of Gerontology National Conference in Alice Springs
2014 – Nurturing Kids Kit featured on Today Tonight (Channel 7) with Monika Kos
2013 – Nurturing Kids Kit launched
2012 – Convenor of the First West Coast Laughter Conference in Perth, WA
2009 – Publication of Wellbeing Kit for GrandCare (Wanslea Family Services)
2006 – Recipient of a Laughter Ambassador Award from Dr Kataria at the First Australian Laughter Conference
2005 – Internationally accredited Laughter Yoga Teacher Training with Dr Kataria
2003 – Cottesloe Laughter Club established at the Cancer Wellness Centre
2000 – Laughter Leader Training with Dr Madan Kataria (Laughter Clubs International)
1997 – Inspired by Dr Patch Adams, Janni added Laughter to her repertoire
"The Laughter Lady"
Janni, known as the Laughter Lady, has spoken at:
Conferences, Corporate Events and Professional Development seminars
Health and Education seminars and Expos
Women's, Carers' and Seniors' organisations, Retreats, Fundraisers, and AGMs
Early Childhood organisations and for the Aged Care sector
Breakfast, Lunch and Dinner!
Janni Goss is widely known for her presentations which are inspiring, interactive, informative and fun, and she can be contacted on phone 08 9277 7922 or Email